Skin Resurfacing in Idaho Falls
Achieve skin that glows with a fresh radiance.
Skin can lose its sheen and glow from damage and aging. It doesn't have to be permanent. Medical techniques allow us to keep our skin healthier today. With plasma skin resurfacing, you can improve the look and feel of your skin with non-surgical treatments.
Healthier skin begins with visiting an expert in the field. When you visit Ridgeline Aesthetics, you will receive the highest quality of treatment and care. 
SIGNS OF AGING IN THE FACE
Moderate to Deep Wrinkles
Fine Lines
Sagging Skin
Rough Patches
Poor Skin Tone
Sun Spots
Other Skin Lesions
Reasons for Skin Resurfacing
You want to even out your skin's pigmentation
Your skin has lost its glow and you want to restore it
You want your skin's surface to be smoother and tighter
You want to improve the appearance of scars on your body
You want fresh, radiant skin that glows
What is Plasma Skin Resurfacing?
Plasma skin resurfacing and scar revision at Ridgeline Aesthetics is a noninvasive aesthetic procedure that involves focused microplasma technology to eradicate damaged skin one layer at a time. The plasma skin resurfacing treatment is performed for reducing facial skin folds and for improving flaws, like scarring, hyperpigmentation, stretch marks, and texture issues. Plasma skin resurfacing with Alma Opus Plasma® is an ideal facial treatment for people who want a radiant, youthful-looking complexion. Schedule an appointment with our team in Idaho Falls, ID to learn more about plasma skin resurfacing, and see if it's a good fit for your aesthetic goals.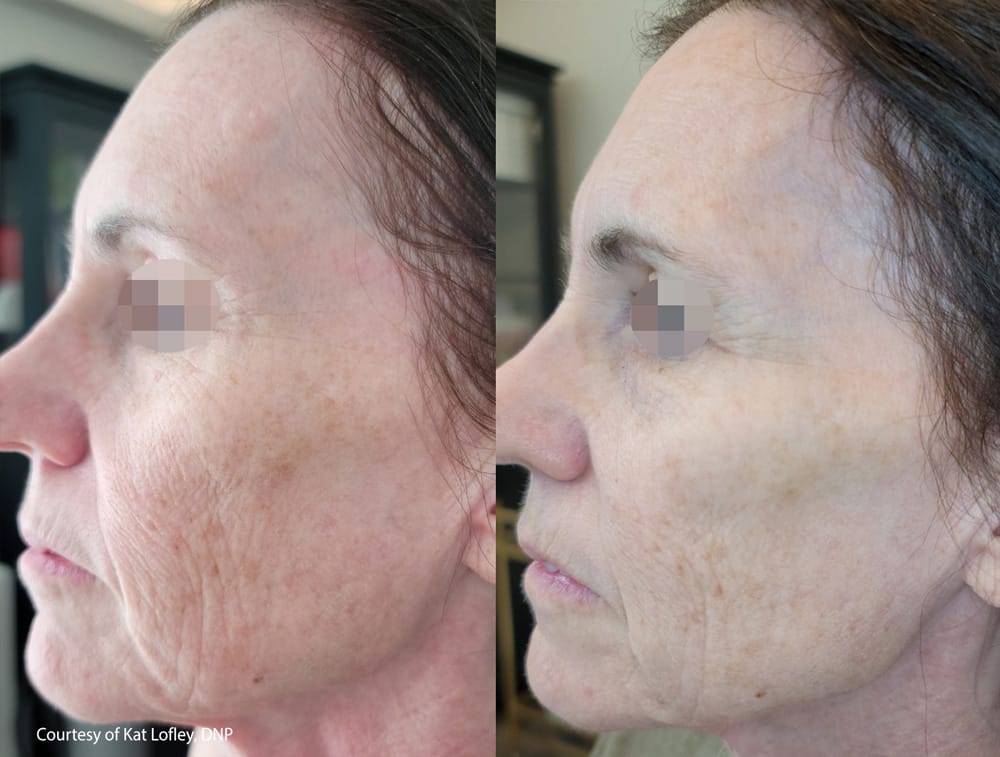 Plasma Skin Resurfacing FAQs
How much does microplasma skin rejuvenation cost?
Plasma skin resurfacing expenses will fluctuate, depending on the type of treatment you want. At your consultation, we will learn about your skin concerns and goals before discussing the different types of plasma resurfacing available. After this, we will help you decide on your plasma resurfacing method and discuss costs.
How can I help my skin recover after plasma skin resurfacing?
Your provider will discuss ways to speed skin healing following your plasma resurfacing procedure. The most important rule is to not pick or peel flaking skin. Doing this can cause lasting damage, such as scarring. You need to skip all hair removal of any kind in the treatment area, which includes waxing, shaving, or depilatory creams. In addition, you should use SPF 50 and wear a hat when outside. We can recommend an ointment to help soothe and heal the treated areas.
How often should I get fractional plasma skin resurfacing treatments?
The initial plasma skin rejuvenation session often creates visible results for the majority of individuals. To get the best possible results, you may want to get a total of 3 – 4 treatments scheduled 2 – 4 weeks apart. With deeper resurfacing treatments, additional time may be expected between appointments. Following that, we advise arranging follow-up resurfacing treatments every 6 – 12 months at Ridgeline Aesthetics.
"Best office ever...Monica is awesome."
"These ladies are ABSOLUTELY AMAZING. They were extremely professional and knowledgeable. I would recommend Christina to anyone for their aesthetic needs!"
"I've already had compliments on my skin. Christina is amazing."
"Ridgeline Aesthetics is INCREDIBLE at what they do! I highly recommend them for all your medical and beauty aesthetic needs!"